Contact
We are here for you. We will get back to you within 1-2 business days.
info@metamodel.biz
+49 621 150 285 51
Solutions
Metamodel.biz offers complementary solutions to consulting services. This includes several solutions in the field of modelling software and requirements / architecture repositories.
Agile Modeling Factory
The Agile Modelling Factory (AMF) enables continuous documentation in IT projects (especially agile projects) without additionally burdening the requester and project team.
The basic idea is to extract the basic components of the architecture model from the documentation that is required anyway (e.g., user stories). After that they are supplemented by modelers (e.g., solution architect or enterprise architect). Thus, the project team is not burdened with additional documentation tasks during the planning and execution of sprints and does not require any modelling knowledge. Nevertheless, a consistent architecture model and a comprehensive and up-to-date architecture documentation can be guaranteed.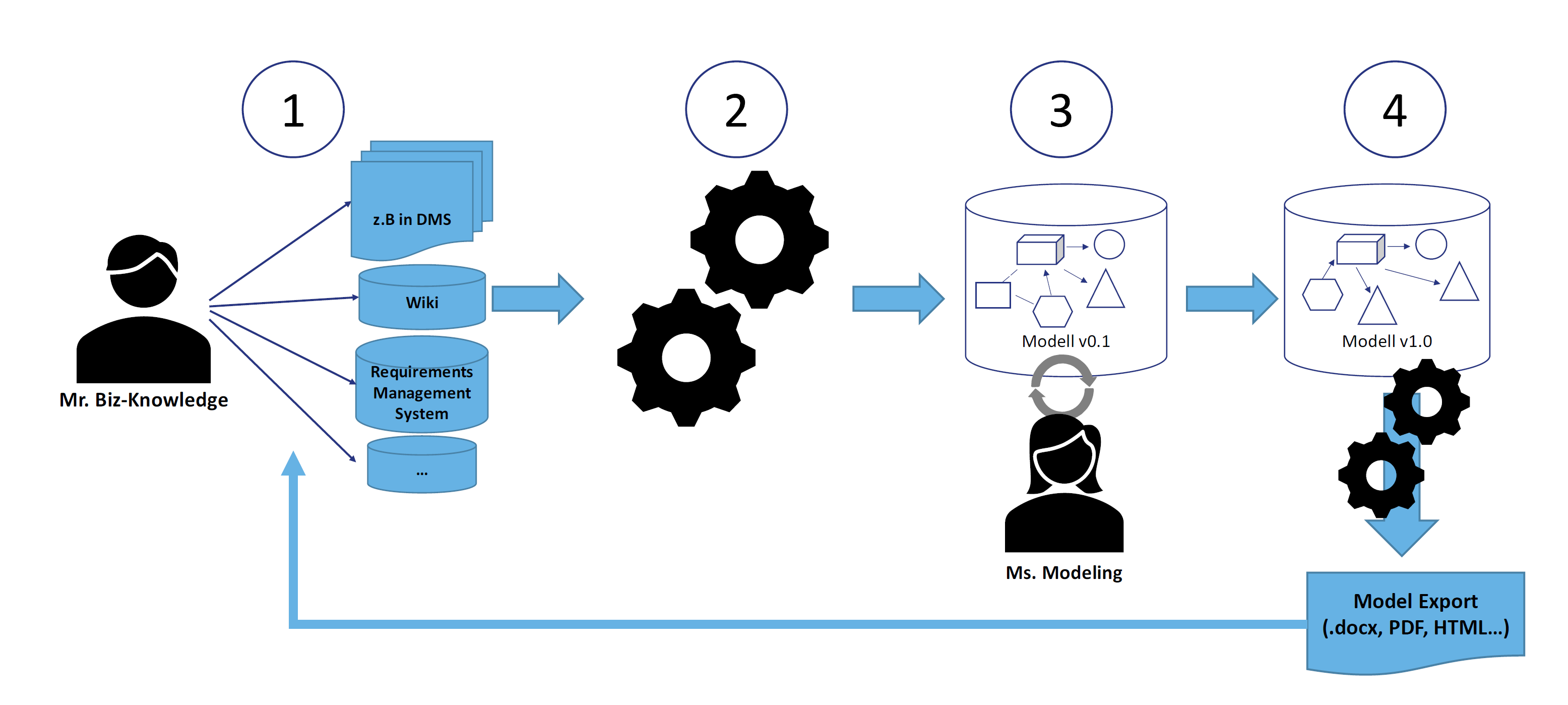 The rough process (per increment of the project):
Define requirements
Requestors/persons responsible document requirements in natural language (e.g. as user stories)
Pre-model
AMF extracts relevant information from the operational systems used in the project (e.g. JIRA), analyses it and creates the "pre-model" (model v0.1)
Examination
A human modeler formally checks, corrects, and works on the model > resulting in a checked model (v1.0
Documentation
AMF generates "human-readable" documentation (e.g., Word/PDF document or an HTML export) from the model and sends this to the requestors from step 1 for review.
Any changes are reported to the modelers
Then the process from step 3 is performed again
Integration solutions for modelling software
The following modelling integration solutions are currently available:
Export sparx Enterprise Architect diagrams to MS PowerPoint Slides (model elements as PowerPoint Shapes)
Import MS PowerPoint Shapes/ Slides in sparx Enterprise Architect models
Other tools in the modelling environment
The following tools for modelling software are currently available:
StyleshEAts plugin for the implementation of corporate design-compliant diagrams within sparx Enterprise Architect